At only twenty-three years old, Meaghan Curley has published her first book with Cosmic Teapot Publishing.  Her novel, Girl: Repurposed, is poised to set the fiction world on fire.  Melding her youthful vision with a deep understanding of classical literature, Curley is sure to become one of America's great humorists.  Her voice, a voice for the millennial generation, will resonate with anyone that has concerns for the state of America – and she does it in the most profound ways.
Where did you grow up?
I was born and grew up in Utica, NY.  Hopefully I will die there too.
What was it like growing up there?
Due to the economic decline of the 80s and 90s, the city was a very poor, depressed place. A lot of people left.  One of my most vivid memories of the city were the burned down and abandoned homes that all over the place. If your family didn't leave the city back then, it meant tha
t you were one of three things: poor, impacted by drugs (we had and still have a major drug problem in Utica) or you were newly arrived immigrants/refugees also trying to make it. My family was the first two.  I'm convinced that's why we never moved. Although, to be fair, I love my city and I'm glad I got to grow up in a unique, diverse, crazy, stereotypical NY town.
What is your favorite memory?
I honestly don't have many fond memories of my childhood. All I can say is mine was pretty wild, all things considered.
You've mentioned to me before that you've always wanted to write.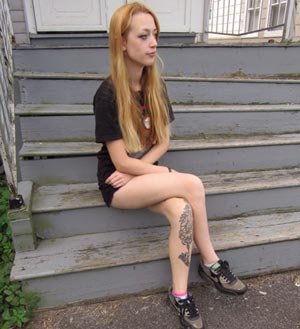 What sparked that?
I don't remember what sparked the writing per se, bu
t I do remember doing it since I was seven. I think it was just a form of escapist therapy for me because life was shitty as a kid and it was all I had. That and I was so in love with my imaginary friends that one day I decided to give them a whole story, which ended up being my first "novel".  It turned out just to be a thinly veiled copy of the Halloweentown movies.  I remember getting called out for plagiarizing the plot by one of my fourth grade classmates.  It didn't matter, though.  I never stopped.
What is Girl: Repurposed about?
The book is about a girl named Tranquila Obiit, who, because of her grandmother, ends up selling her soul to Hades.  As an employee of the Underworld, Tranquila seeks out her purpose in life while pet-sitting a three-headed dog that is hell-bent on destroying her.
You've said that it is a satire about the American dream.  What do you mean by that?
Girl: Repurposed is what millennials have to deal with the second that they reach that first real existential crisis:  finding purpose in a society that only values work but often not the workers. In the story, the only way Tranquila finds a job is by selling her soul. In the westernized world this is a horrible concept of moral and spiritual decay – an individual pathology. It seems to me that it's just part of the everyday working class experience.
I've sold my soul several times in the pursuit of a job. How many times have we started a job we hate, for shit wages, and sacrificed the precious time that we have with our loved ones? For a lot of people that's every day.  While it goes against our very principals to choose money over family, we choose it again and again because, of course, we have to eat. We have to provide and maintain shelter.
That's what I am satirizing in Girl: Repurposed. Tranquila literally sells her soul, but instead of it causing her pain and agony, she gets a good deal out of it: she gets great pay, her boss respects her, the job itself is engaging and rewarding. A lot of people my age, and older, sell their souls, metaphorically, for a lot less.  That's why when I tell people the plot and they go "wow that's a scary concept, selling your soul" I laugh. Because we, as adults, do it all the time.  We just don't want to see it that way.  Instead, we say, "that's the way it is."
Is there a message that you hope for people to walk away with?
The only message I want people to get out of this book is that Zeus is a rapist and it's really weird that that doesn't show up in literature and media more often (looking at you, Disney's Hercules).
How long did it take you to write Girl: Repurposed.
I'd say it took me two years from the start until the final revisions were done.  But 85% of the final draft was written between January and March of 2016.  Haha.
Were you under house arrest during that time, like Tranquila in Girl: Repurposed?
No, not quite. What happened was that I walked by my neighbor's house one day and I saw that their garage was filled with beer cans, which are worth five cents each.  The id part of my brain was like, "Yo, steal those." Meanwhile, the super ego part was telling me, "Are you really going to try and get arrested for stealing beer cans? What kind of dumbass are you?" In that moment, I thought to myself who would be dumb enough and crazy enough to do something like that?  And Tranquila was born.
So, did you end up stealing the cans?
No, I didn't.  I went home and started writing right away.
What's next for you?
More nerd jokes and more inappropriate storytelling, that's all I can say for sure.
Girl: Repurposed is available at:
Amazon  |  iBooks  |  Kobo  |  Barnes and Noble